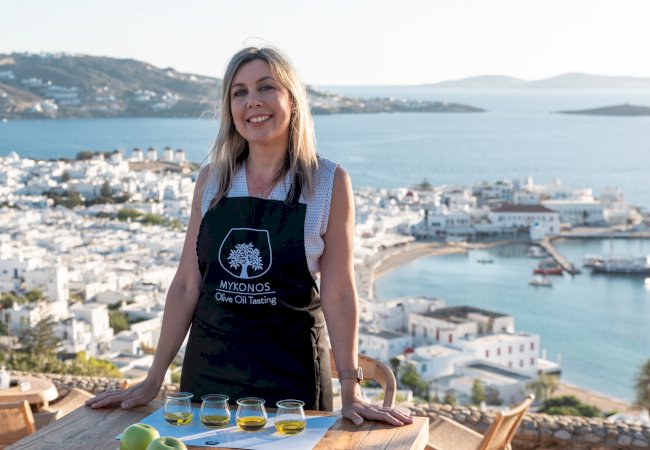 I am Anita Zachou, an Expert Olive Oil Taster by Jaen University in Spain, Agricultural Engineer & Holistic Wellness Coach. I was born in Athens and I feel very lucky and proud to be Greek. The beauty of Greece is the biggest source of wellness for me.

I come from an olive oil-producing family from Kalamata and since I can remember myself, I was playing around & climbing on some of the millions of olive trees of the Messinian land playing, participating in the harvest, and enjoying my family's fresh olive oil every year. When I grew up it came naturally for me to study agronomy. My great passion for olive oil and gastronomy led me to seek deeper knowledge and become a professional Olive Oil Taster in 2012. Later on, I was granted a scholarship by the International Olive Council (IOC) to attend the most prestigious olive oil tasting course at the University of Jaen in Spain (UJA), from which I hold the title of Expert in Virgin Olive Oil Tasting.
Our Story
After a successful career in multinational companies for 20 years, my life came to a point where it needed a radical change.
At the beginning of 2018, I quit my job (Global Training Manager in APIVITA Natural Cosmetics) moved to Mykonos, following my fiancé and my need to live a more simple, healthy life away from the big city's stress. Being always passionate about olive oil, gastronomy & healthy living, deep inside I always knew that one day I would work with these on a full-time basis. And also, I had a dream!
To create a company that will make an impact on people's lives. To teach, coach and increase awareness of consuming great quality Extra Virgin Olive Oil and inspiring people to adopt a holistic, proactive approach to their health, beauty & wellness.
In late 2018 I founded Mykonos Olive Oil Tasting, an educational & consulting company based in Mykonos island in Greece, delivering seminars, workshops, and webinars on Olive Oil Tasting, Olive Oil Gastronomy, Mediterranean Diet, Holistic Health, Beauty & Wellness to visitors & locals but also consumers, kids, producers, wholesalers, and culinary professionals all over Greece and abroad.
Olive Oil is my great passion, is Greece's liquid gold, a main culinary ingredient consumed every day & a health elixir. I believe that learning how to taste, select & consume good olive oil, is one of the most valuable pieces of knowledge that one can offer himself since olive oil is not only the most important cooking staple but a unique and precious health, beauty and wellness elixir.
I love traveling, yoga, cooking and tasting olive oils from all over the world. I feel very lucky to be able to share my knowledge & passion for high-end extra virgin olive oil, Mediterranean diet, holistic beauty, health and wellness with people from all over the world surrounded by the beauties of Mykonos.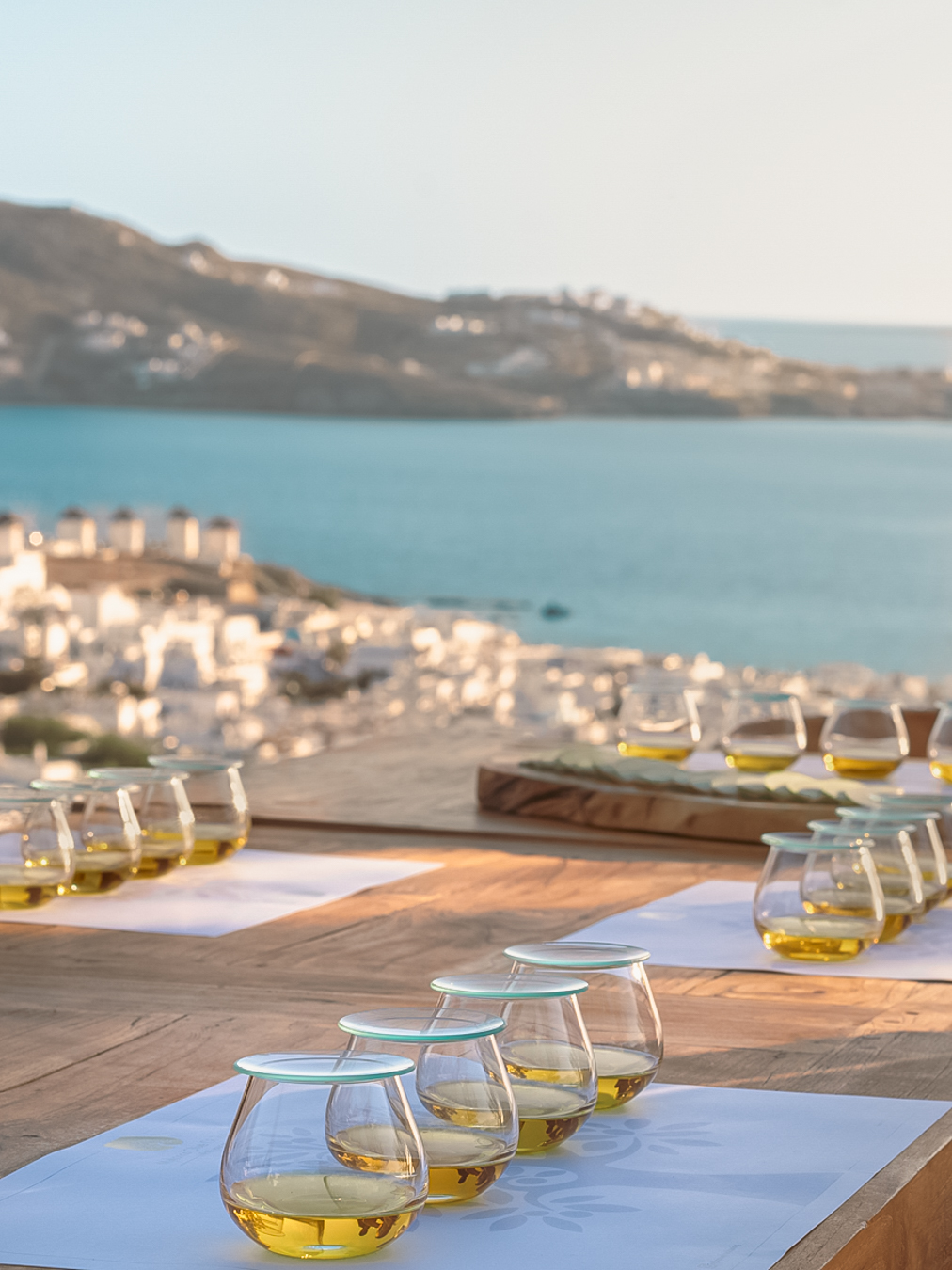 Mykonos
Is a small island in the middle of the Aegean Sea in Greece. It might be small, but carries a big reputation; it is the most famous island of Greece worldwide, a brand name itself. It is the island of mythology, history, unique light and beauty. It is particularly famous for the cosmopolitan atmosphere (favorite holiday destination for billionaires,international movie stars and royalties), the exciting nightlife, the picturesque Cycladic architecture, the magnificent beaches and the neighboring sacred island of Delos.
What is not so famous about is its rich culture, local gastronomy, customs and traditions. From folk dances to loom woven fabrics and from cheese & charcuterie making to traditional feasts. Feasts are a custom that dates back to ancient times, originating from the worship of Dionysus, the god of wine and fertility. Despite the modern lifestyle in Mykonos, local people devoutly preserve their folkways. Honoring the tradition of their land, Mykonians have made significant efforts lately to revive the cultivation of olive trees on their island.
My Experiences
Book activities led by Mykonos Olive Oil Tasting on your next trip
Latest Recipes by Mykonos Olive Oil Tasting
Latest stories from Mykonos Olive Oil Tasting