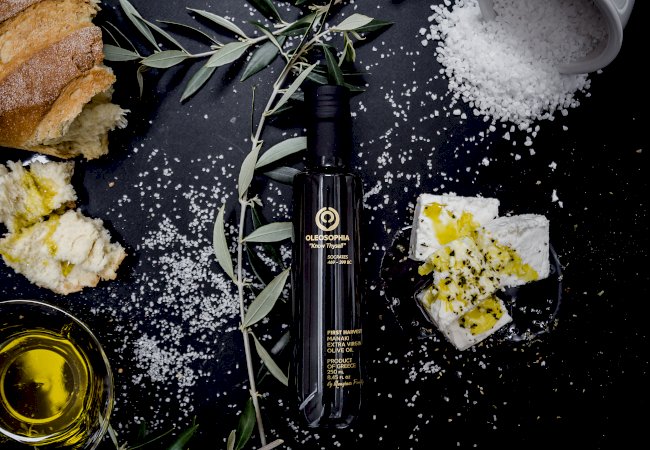 Welcome to OLEOSOPHIA, a local taste with global friends!

We are family producers of Extra Virgin Olive Oil of the rare Manaki variety that you can find only in our region and nowhere else in the world! Our family olive grove is located along the sides of Mt. Fokas, near Corinth and our village, Kalentzi, is the family's base for three generations now! The mountain of Fokas is the mountain where the mythical Lion of Nemea was born, one of the Herculean labours! Blessed with a strategically mild microclimate and fertile land, our olive groves are surrounded by wild forest with a view to the Corinthian gulf, keeping our trees happy!

OLEOSOPHIA is our family's Extra Virgin Olive Oil, produced by handpicked olives on our grove, ensuring consistency in quality, taste and aroma. OLEOSOPHIA is a limited-edition product as the quantities are limited to each year's yield. Our team consists of young, vibrant and passionate people with multidisciplinary backgrounds – farming, chemistry, physics, computer engineering! This variety and knowledge-based mentality is what binds us so well together while our meraki, our love for what we do, is our driving force!
Our Story
OLEOSOPHIA is a love story travelling the world! It all began when Marianna – your typical Athenian girl that is now an Olive Oil Sommelier – met George, an IT engineer with a love for his family's olive trees! George and Marianna used to take long walks and talk under the olive trees about their future while Marianna experienced the harvest for the first time! That was the final drop of inspiration and in 2018, George and Marianna got married in a beautiful garden, having created OLEOSOPHIA with the support of their brothers and sisters!
Gradually, OLEOSOPHIA grew popular, received awards and is now a reference point for Manaki, appreciated for its rich aroma and well-balanced profile! OLEOSOPHIA represents the wisdom of olive oil and the unification of two families, of the old and the new. Our family is happy to share this love for extra virgin olive oil with you, exchange ideas and form friendships around the world! At the same time, Marianna is an olive oil sommelier, educator of olive oil and conducts olive oil tastings,tours and more! Since the beginning, the community of Oleosophers has grown! Little Ariadne, born in autumn 2020, is our youngest Oleosopher! Are you an #oleosopher?
Welcome to our family table and join us in our adventurous journey with OLEOSOPHIA!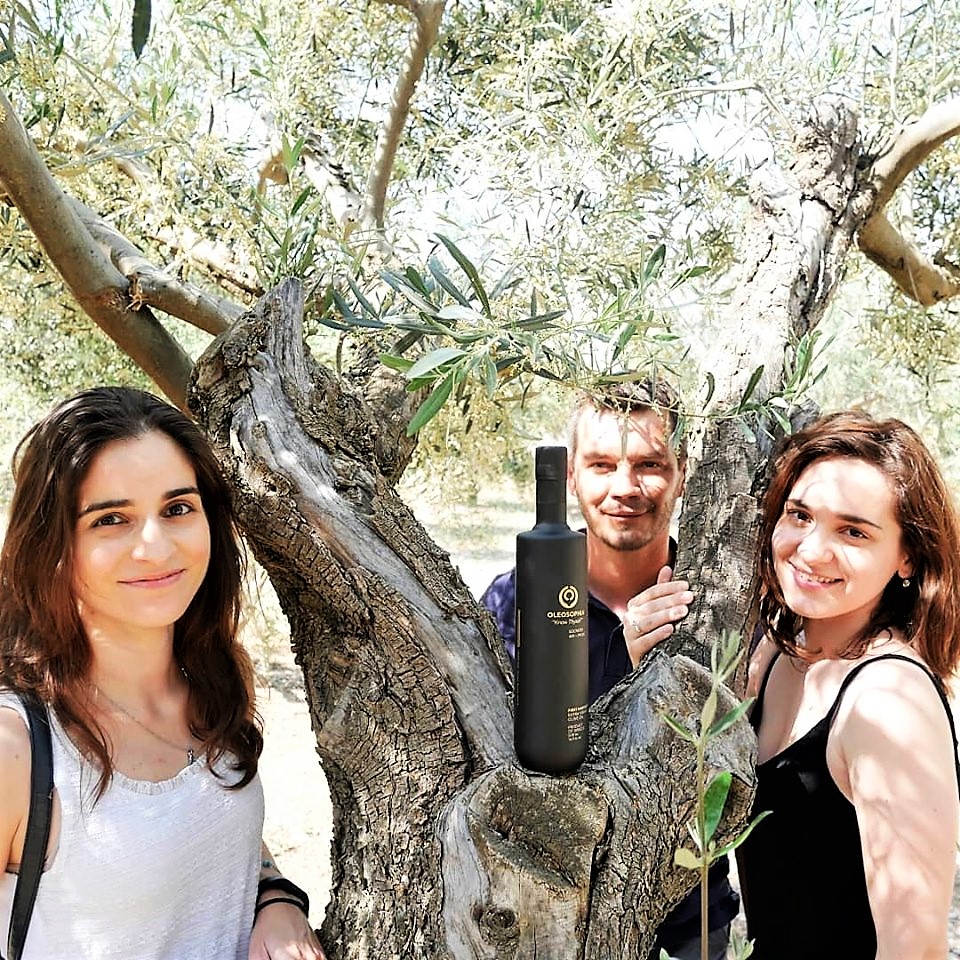 Corinth
Our village, Kalentzi, is approximately 1.5 hours (~100km) away from Athens, in the area of Corinth and about 15 minutes away from the closest coast, that of the Corinthian Gulf. Access is very easy through the national highway with direct exit towards our olive groves while the suburban train (proastiakos) has daily routes connecting Athens to Zevgolatio Station.
The area is popular for its olive groves and grapes, both rich in the local varieties, which we work hard to maintain, improve and safeguard through the difficult and ever-changing climate conditions. Behind Mt. Fokas is Nemea, known for its fine wines and ancient sites!
According to mythology, Mt. Fokas was the birth place of the Lion of Nemea, the terrible lion that Hera sent to hunt the people and face Hercules while during the Ottoman occupation, it was used as a hideout and fortress for Greeks, who took advantage of its altitude to have a clear view of the plains and the enemy armies. Within the rocks of Mt. Fokas, a small church was built, which is a beautiful place to visit and enjoy!
Across from Mt. Fokas, the majestic ancient Corinth stands, with the long history and fortress at its very top, while the great Canal of Isthmos – a grand infrastructure that changed trade and transports in shipping – is a view not to be missed! The beaches that surround the area are all beautiful and family friendly.